You Deserve a Clean House!

————————————————–
If keeping up with housecleaning is getting the best of you – this is for you!
You just found the secrets of a cleaner home in half the time!
You know, some people just seem to know the secrets to getting everything done. Their homes are clean and organized. Ever wonder how come some people can just float through life seemingly effortlessly?
These people have organization down to a science. It's not luck or special talent. It's just a matter of learning how.
What if I told you that in a couple of weeks, you could have one of the cleanest homes in the neighborhood? Yes, You!
How about if I told you that you can keep it that way pretty easily? You can.
****************************
Hi,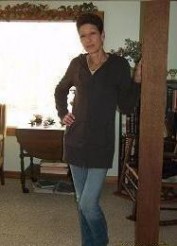 I'm Carole Stannard-Pagan. You might know me from CommonSenseLiving.com where I write about living smarter.
I was the oldest child raised by a working single mother, which made me responsible for cleaning the house, setting up dinner, and taking care of my younger sister. I learned early in life how to get the work done quick so there was time for fun. I live my life that way to this day.
I was labeled as a Clean Freak by my friends in my 20s.
Then in my 30s, I had a child, got divorced, and now I was the working single mom.
At first, it wasn't going so well…
I remember feeling so frustrated that I just wanted to cry. I just couldn't seem to keep up. I'll bet that's how you're feeling right now, right?
When I lost my career, my half-sister (who is the other clean freak in the family) who has a cleaning business asked if I would like to work for her while I looked for a job.
Then she tells me that a crew of two can clean 3 houses a day and be home in time for the school bus.
Wait a minute! How is that possible?
When I saw her house cleaning plans for each house, I was totally blown away! These plans were a goldmine!
By helping my sister, I've cleaned hundreds of houses, tested tons of solutions and cleaning products. But I took it one step further.
See, I didn't want to have to spend a few hours every weekend cleaning house. I wanted to spend that time with my daughter having fun.
I took those house cleaning plans and I broke them down into little tasks that you do every week night.
The result?
Imagine getting up on Saturday morning and relaxing in your already clean home. Can you feel the peace and serenity? Awesome, isn't it?
See yourself coming home from work and having your kitchen clean and ready for you to make a tremendous healthy meal. Imagine you and your family sitting around the table enjoying good food, conversation, and laughter.
Picture getting up in the morning and walking into your clean bathroom and kitchen. What a great calm start to your day… Can you feel it?
Now you can learn the secrets of the pros so you can feel like this every day!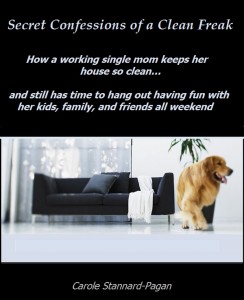 Your Complete Guidebook
Get Your Home Clean, Really Clean
Keep Your Home Clean without Killing Yourself
Organize the Clutter
Have a Calm Comfortable Home that You and Your Friends and Family will Love to Relax in
Reduce your stress
Feel a sense of accomplishment and pride
For once – You are in control!
I know, you're thinking "there's no way I can ever get control of this mess!"
Relax – You Can. In just a few short weeks you will have a home that's cleaner than 95% of the people you know. And you will spend less time doing it.
Imagine how it feels when someone says – "you have such a nice home."
Or when your kid's friends say – "your house is so clean."
Or when a visitor asks – "How often does the maid come?" I loved that one!
It's a riot. All of those things have happened to me. I just smile. They all think it's so hard. It's not, once you "get it."
Secret Confessions of a Clean Freak will reveal –
How to clean every room in your home, top to bottom, and keep it clean.

How to keep the kitchen clean in minutes a day.

How to clean the bathroom in under 10 minutes or less.

How to keep your home clean, and not spend precious weekends doing it.

Get your clutter organized.

Storage solutions

Solutions to common cleaning problems
You'll spend just 15 – 30 minutes a day- weekdays only. (For an average 3 bedroom, 2 bath home – with living room, dining room, family room, and kitchen.)
I'll even tell you the best cleaners to use for each job, and the quickest way to tackle even the worst jobs. I give you every tip, secret and shortcut I can think of.
Quit Doing Things the Hard Way!
There is the hard way to do things, (the way most people do them) – and then there is the easy way. When you know how to do it the easy way – you'll wonder why no one ever figured this out before.
Secret Confessions of a Clean Freak takes the same techniques the pros use, and breaks them down into small manageable tasks that you can do in no time. Your home will be pro-clean, without the pro-price!
You'll be beaming with pride when your friends and family wonder how the heck you do it all!
Choose the easy way. Get your copy today.
School is going to be starting before you know it. To convince you to get your life together before the chaos starts up again – I'm having a Sale! Only $9.97 to get a cleaner home in half the time. Expires July 31, 2015.
You're going to love coming home!
E-book is instantly downloadable – You can get started right away
Plus, you'll receive these companion guides –
One Day Cleaning Intensive –
For those people looking for a fast solution – Something you can do in one day for a party coming up fast! So I have added a One Day House Cleaning Intensive.
Some people like to use the One Day House Cleaning Intensive to initially get the house clean and then use the system to keep it clean.
How to Clean Your Carpets Like a Pro
New carpet is expensive. It makes sense to protect your investment. This report was written by a professional carpet cleaner and it will help you keep your carpets looking great longer.
Besides, who wants to be crawling around on smelly, dirty carpet?
---
Your order is securely taken by PayPal –
Simply Click on the PayPal Button and you'll be taken to the PayPal page where you can pay with your PayPal account, or your regular credit or debit card. I never see your credit or debit info. Once your transaction is complete – Hang on a few seconds and you will be taken to the download page. I will also email you the link just in case.
OK, Let's get you going!


Now just $9.97
(please note – this are e-books – shipping is not an option)
Now, what will you do with all that free time?
Enjoy it!
Carole
P.S. You have nothing to lose. Try the system for 30 days. If for some reason it does not work for you, request a full refund.
So what are you waiting for?
I'm only an email away if you need more help.

What others have said…
Wow Carol – when you look at how simple you made it, well thanks, I can cope with that, just having it printed out in front of me like this really does inspire me to just get on with it and stop thinking about it. So at the bbq on Saturday I will have a drink to you!! Many thanks for your help.
Sue
Dear Carole,
I just had to let you know though I have only been using your cleaning scheme for a week, but already my house is twenty times cleaner than it has been in a long time and it looks set to stay that way. I cannot believe that I can now find it possible to keep the house clean while at the same time juggling a part time job, a three year old and a one year old and being pregnant, without having to spend any more time on jobs around the house than I did before.
It's great to feel that my boys can have their little friends round to play, whereas before I was to ashamed to have anybody round (unless their house was also dirty!).
Thanks, your book has made me happy.
Anna Wilson
Dear Carole,
I would like to thank you so much for the wonderful book, "Secret Confessions of a Clean Freak" This book is the answer to my prayers. With a family of four youngsters, and my husband and I both working, it's often difficult to keep up with the regular must-dos in order to maintain a clean and tidy house. I have always felt that it all boils down to proper time management, and I must say this book certainly helped me get control of my time.
Kind Regards,
Fiona
I wanted to tell you, I usually have this whole cleaning ritual that I go through. I have all these cleaners that I use in each room. I tried it the way that you do it and ba-da-bing! It was done. This is so cool, I am so excited! I've been doing it the same way practically since I was a kid. I can't believe I didn't know how to clean a house. I am so proud of myself!
Carla
Take advantage of this crazy deal- Just $9.97 for a limited time!