Oh sure, you go all out, killing yourself trying to get the house clean before company comes over.
The rest of the time you let it go and you hate your home. Who decided that the house should only be clean for company? What about you? You work hard. Don't you deserve to enjoy your home?
But who wants to work that hard all of the time? Its too much hard work, takes too long, and its really boring…right?
There is a way to have a clean house without all the hard work…
If you want to keep a beautifully clean and organized home, but can't seem to keep up – I've got some amazing secrets to share with you that will change everything.
When my daughter was young, I put together a system based on how professionals clean that makes house cleaning so easy! You come home to a clean house, and you never have to spend your weekends cleaning. You get to actually enjoy your home! Imagine that!
Let me tell you – It really is incredible how different your life is once you've learned these secrets. You'll be pinching yourself to make sure you're not dreaming…
And it really is so simple!
I wanted to tell you, I usually have this whole cleaning ritual that I go through. I have all these cleaners that I use in each room. I tried it the way that you do it and ba-da-bing! It was done. This is so cool, I am so excited!

Carla


Here's how this system came to be…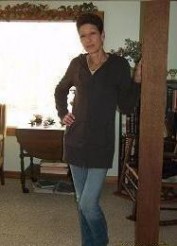 I've been a single working mom for 18 or so years. I know how frustrating and overwhelming it is just trying to keep up.
I come from a long line of horrible housekeepers. As a teen, either I cleaned, or died of embarrassment. I was terrified that someone would see how we really lived. So I cleaned, at least to the best of my ability at the time.
I was so disgusted, I vowed that my house would never be dirty!
Then, real life hit…
By the time my daughter started school, I was a single mom. We would be up before dawn and not get back home until after 6. Then there was all the kids that hung out at my house, dinner, homework, bath… I'm not telling you anything new, right?
I sure didn't want to be spending weekends cleaning house. We had more fun things we wanted to do.
I remember feeling so frustrated that I just wanted to cry. I just couldn't seem to keep up. I'll bet that's how you're feeling right now, right? Tired, frustrated and overwhelmed?
Then the breakthrough came!
I got laid off. OK, not a good thing.
My half-sister who has a cleaning business asked if I would like to work for her while I looked for a job. That didn't thrill me…
Then she tells me that a crew of two can clean 3 houses a day and be home in time for the school bus.
Wait a minute! How is that possible?
When I saw her house cleaning plans for each house, I was totally blown away! These plans were a goldmine! Knock it out, step-by-step plans for each house to get it done the fastest way possible.
Think about it. Cleaning girls want to get in and get out. They can come in and get a 4 bedroom home cleaned top to bottom, end to end – in just a couple of hours. Imagine knowing what they know…
I was determined. There had to be a way to have a clean house and time for a life.
So then I took my new found knowledge and experimented. I broke the plans down into easy to do daily tasks that took just a little bit of time on the weeknights. Remember, my goal was to have a clean house for the weekends so I could enjoy life.
Finally a plan that works!
The results are astounding!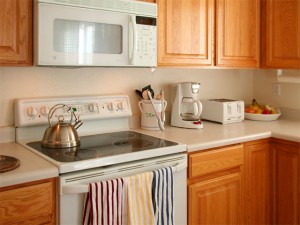 I really feel like I hardly spend any time cleaning. I just do little things here and there – and the house stays clean.
Here's what it did for me recently…
I've been an empty nester for a couple of years now. I've been helping my friend who lost his wife 8 years ago has been struggling trying to keep his house, and keep it up.
Its a father and 2 should be adult sons. Believe me – you can't imagine what I started with…
The house was a gross and disgusting nightmare!
Could my system work in a house that has been neglected for years? Believe me – I wasn't so sure. This place was truly awful. The first day I wondered how you could take a shower without touching anything. It was that disgusting. Seriously, people still talk about how gross the house was.
I wondered – would I be able to get it clean… and even so, would I be able to stay ahead of 3 man slobs?
Thank Heaven! The system works even in a bad situation!
Here's just one example of before and after –

And it's not just me. It Worked For These People, And It Will Work For You!
Dear Carole,
I just had to let you know though I have only been using your cleaning scheme for a week, but already my house is twenty times cleaner than it has been in a long time and it looks set to stay that way. I cannot believe that I can now find it possible to keep the house clean while at the same time juggling a part time job, a three year old and a one year old and being pregnant, without having to spend any more time on jobs around the house than I did before.
It's great to feel that my boys can have their little friends round to play, whereas before I was to ashamed to have anybody round (unless their house was also dirty!).
Thanks, your book has made me happy.
Anna Wilson
…His family is coming on Sunday. The good news is….I'm ahead of schedule and house is pretty much done…I cursed a few times when doing the kitchen – surprised your ears weren't ringing…..cursed as to why I didn't stick to the carole way …
But on the plus side because I stuck to the plan otherwise it isn't as brutal.

Thanks for making it easier.

Debbie
Wow Carol – when you look at how simple you made it, well thanks, I can cope with that, just having it printed out in front of me like this really does inspire me to just get on with it and stop thinking about it. So at the bbq on Saturday I will have a drink to you!! Many thanks for your help.
Sue
Dear Carole,
I would like to thank you so much for the wonderful book, "Secret Confessions of a Clean Freak" This book is the answer to my prayers. With a family of four youngsters, and my husband and I both working, it's often difficult to keep up with the regular must-dos in order to maintain a clean and tidy house. I have always felt that it all boils down to proper time management, and I must say this book certainly helped me get control of my time.
Kind Regards,
Fiona
Although i am not perfect with the habits yet, i certainly have done all of them throughout last week. I feel very positive and everyone in the house comments how clean the place is! All the children have started picking up after themselves without any prompting. Looking forward to cementing these habits further, Nicola.
I wanted to tell you, I usually have this whole cleaning ritual that I go through. I have all these cleaners that I use in each room. I tried it the way that you do it and ba-da-bing! It was done. This is so cool, I am so excited! I've been doing it the same way practically since I was a kid. I can't believe I didn't know how to clean a house. I am so proud of myself!
Carla
Finally, It's Your Turn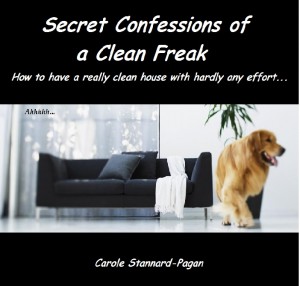 When you get Secret Confession s of a Clean Freak today, you'll be able to…
Get Your House Clean, Really Clean – the fastest way possible so you're not wasting your precious time…

Organize the Clutter so its put away, but easy to get to when you need it

Have a Calm Comfortable Home that You and Your Friends and Family will Love to Relax in

Have a calm start to your days

Feel more capable and confident

Be proud to offer your home for get togethers

Have a whole lot less stress

Have better relationships with your family because you won't be snapping at them all the time

Be more motivated to cook a mouth-watering healthy dinner in your nice clean kitchen

Have more time to focus on the important things in life

Actually Enjoy Your Home!
It takes so much pressure off!
You spend just 15 – 30 minutes a day- weekdays only. (For an average 3 bedroom, 2 bath home – with living room, dining room, family room, and kitchen.) It's not just a collection of housecleaning tips, it's a whole system with schedules and checklists.
Just do what the schedule tells you to do. You don't even have to think about it.
And it's exactly how a professional cleaning service would tackle your house – just broken down into easy to fit in little daily tasks.
I'll even tell you the best cleaners to use for each job, and the quickest way to tackle even the worst jobs. I give you every tip, secret and shortcut I can think of.
Secret Confessions of a Clean Freak takes the same techniques the pros use, and breaks them down into small manageable tasks that you can do in no time. Your home will be pro-clean, without the pro-price!
You'll also get the One Day House Cleaning Intensive. A lot of people were looking for a fast solution – Something they could do in one day for a party coming up fast!
Some people like to use the One Day House Cleaning Intensive to initially get the house clean and then use the system to keep it clean. This is totally optional. I prefer the least work myself…
But wait, there's more! I want you to really really love your home. When you pick up your copy today, you'll also receive these bonuses –
Perfect Fit Decorating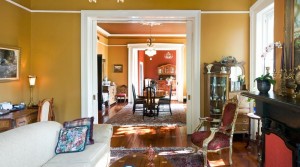 After you get the house clean, you'll be ready to take it up a notch. I swear – almost every person says, "Maybe I should paint…"
Perfect Fit Decorating will help you make your home perfect for your individual taste, perfect for your lifestyle, and perfect for your budget.
You'll learn:
How to pick the perfect color scheme for your individual taste – no matter what the latest decorating trend might be

How to decorate in a way that makes sense for your lifestyle

How to design a floor plan that works for your life so you're not stubbing your toes or tripping on stuff all the time!

What you need to think about before you start your decorating projects so you make your home easy to maintain

Great storage ideas to keep things neat, but easy to get to when you need them

The one question you should always ask yourself before you pick certain colors or finishes

Tips for sprucing up what you already have if you can't afford to buy new right now. I am the queen of this one!

and much more…

This ebook does sell on its own and is a limited time bonus – don't wait and have to pay more.
And one more thing!
How to Clean Your Carpets Like a Pro

New carpet is expensive. It makes sense to protect your investment. This report was written by a professional carpet cleaner and it will help you keep your carpets looking great longer.
Besides, who wants to be crawling around on smelly, dirty carpet?
Maybe you think nothing will work for you…
Try it for 30 days to see if it works for you. If for some reason you're not thrilled with how easy it is to keep your house clean, then just let me know – and you get all your money back. (I had just one refund in 2015.)
OK – How much?
Consider that having an average house cleaned costs about $75 – $95 a pop, depending on where you live, and most people have a cleaning done every 2 weeks. That adds up to $1,950.00 to $2,470.00 a year – not including tips and supplies (and that's assuming you are lucky enough to find a good house cleaner…) Now you can save all that money and do it better yourself!
This would be an incredible deal at the price of one cheap house cleaning.
But you're not even going to pay that much! When you get your copy today, You're going to steal the secrets of getting professional results so easily and all those years of trial and error and tears for less than half of one professional clean – just $27
This knowledge will serve you for the rest of your life, and you can pass the knowledge on to your kids. That's like 2 lifetimes or more of value.
And the stress reduction? Priceless!
Living in a dirty and disorganized home is stressful! It feels horrible! You work hard. You deserve to be able to come home and relax and enjoy your home. You're going to love it!
Here's what to do now…
When you tap the big gold button below, you'll be taken to PayPal where you have the option of using your PayPal account, or a credit or debit card. Once the payment is processed – hang on – you will be directed to the download page. I will also send you an email with download instructions just in case.
Start now and you'll be enjoying your nice clean home next week! (And every week from now on!)
Don't Waste Another Minute! Click Here Now!
$27