How often do you walk into your house and want to scream at the top of your lungs – "I CAN'T STAND LIVING IN THIS MESS ANYMORE!"?
You might even be thinking the only way to get rid of the mess is to burn it down.
Wait! Before you set your house on fire – there is a better solution!
First, let me tell you that it's not your fault. You have been given bad advice. The majority of the articles and ads you read are full of it. I read so much of this garbage and I just shake my head.
I was flipping through a how to clean anything magazine put out by a well trusted name while I was standing in a check out line recently. It was just a compilation of all the other garbage out there. They are writers – not house cleaners.
You need to learn from someone in the trenches, doing it everyday. Someone who really knows and the tricks and shortcuts.
You are about to discover how a working single mom with a dog and a cat figured out how to keep the house clean without having to clean house on weekends…
You'll finally be able to have a home that you enjoy living in
---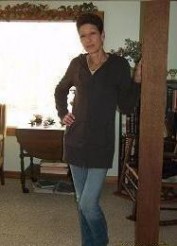 Dear Friend,
My name is Carole, and I am a clean freak. Not a good thing for a single working mom. But it is better than…
Home Shame
I come from a line of horrible housekeepers. I'm talking dust and dirt stuck on the greasy grime kind of yuck. As a teenager, I sure didn't want to be spending all my free time cleaning house. But if I didn't want to be disgusted or die of embarrasssement, it was up to me to clean it.
My family was (I say this lovingly…) lower class hillbillies living in a middle class area. All the kids had nice homes. They almost sparkled. I wanted to live like they did! And I certainly didn't want them to see how we really lived. I would die of embarrassment!
What a Difference Cleaning Makes
I could make our very humble home look pretty good just by cleaning it. That might seem to be common sense, but to a teenager, it is quite a revelation.
The other weird thing that happened was that I found I was more comfortable being at home. I didn't feel like I had to be out running around to escape the madness at home. And I wasn't embarassed to have anyone over anymore. I felt a lot more settled and calm.
That was an important lesson. I know that I need a clean and calm home environment to stay centered and sane, and children do better when home is clean, comfortable, calm, and inviting.
The problem was – it took all day Saturday. My Saturdays were spent cleaning house for years and years…
Now add a Baby for more mess and even less time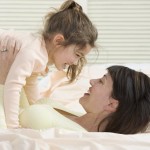 When my daughter came along, now there was way more mess and much less time to clean it.
By the time she started school, I was a single mom. We were getting up before dawn and not getting back home until after 6 pm. My house would be crawling with kids as soon as we walked in the door. Then there was dinner, and homework, and bath. I'm not telling you anything new, right?
Would you Choose a Clean House, or a Life?
It wasn't fair that we couldn't do anything on Saturday because I had a house to clean first. On the other hand, I didn't want her to suffer from the same embarrassment that I did when I was young, so I couldn't just leave it either.
It only takes one mean person to ruin your child's social life…
I felt so overwhelmed and guilty.
Truth be told – I really wanted my house to look like I was a stay-at-home mom. I wanted to be the successful professional – and a supermom. I wanted it all -
And I was killing myself!
There had to be a way to get the house clean, and still have time for life!
I started trying to do a little every day. Seemed like a good idea. I ended up staying up later to get things done, which of course meant less sleep and being increasingly crabbier by the end of the week. That wasn't working so well.
Then the breakthrough finally came!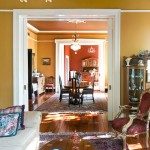 I got laid off. OK, not a good thing, but I went to work with my sister who has a housecleaning business.
Not only did I learn shortcuts and how to clean things more effectively, I also got to try cleaning a lot of different things in a lot of different houses.
But that wasn't the best part
I now had access to how a professional plans the work. I had step-by-step plans. And I saw how things went faster in some homes than in others.
Then, I took all of this knowledge and broke it down into a daily plan.

Hallelujah!
It worked better than I could have imagined. My house was staying clean with so much less effort – I was pinching myself. In a short while, it became habit. I didn't even really need to think about it. Housecleaning suddenly seemed easy.
Now I'm not killing myself cleaning.
I wanted to keep it a secret
It was kind of nice having people think I was some kind of super-woman. I had a business associate ask me once how often the maid came. Seriously!
I didn't want people to know how easy it really is. But this was too good not to share. That would be cruel.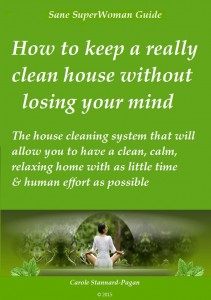 So Here it is- How to keep a really clean house without losing your mind
In the first part of the book I go over basic house cleaning how-to's – so you'll know how to efficiently clean each room in your house, top to bottom and get it done faster and easier. You'll know things like -
How to clean every room in your home, top to bottom, and keep it clean.

How to keep the kitchen clean in minutes a day.

How to clean the bathroom in 10 minutes – even less once you get good at it.

Get your clutter organized.

Storage solutions to keep things neat, but easily accessible

Solutions to common house cleaning problems
I'll also let you know what cleaners I use, because using ineffective cleaners can really slow you down.
You would think that cleaning more often – you would use more cleaning products. Actually, you will use less. It takes less to get it clean when you don't have a build up.
Then – the secret sauce – the schedule
I'll go into full details about what to do daily, weekly, monthly, and seasonally. You'll have checklists that you can print out and keep handy to save you more time.
And I'll give you organizing tips to make it easier to keep things in order. I'll tell you how I made it easy for my daughter to keep her room clean and for all the kids to put stuff away when they were done with it. Yes, really. It was a rule if they wanted to play at my house.
The book is a quick read – no fluff. Just a step-by-step guide so you can be off and getting it done.
Yeah Right
At this point you might be saying to yourself, yeah right – there's no way.
Let me explain.
A professional cleaner working by herself takes on average, about 4 hours to clean your average 3 bedroom house with a living room, dining room, family room, 2 baths, and a kitchen. Half of that time is spent on the bathrooms and kitchen.
But when you use this system, the kitchen and bathrooms are kept clean all of the time. You don't have a week or two of build up to deal with. Just that one thing cut your housecleaning time in half.
Soon You'll Be Experiencing HouseCleaning Zen
In 2 or 3 weeks you'll find it easier to be in the groove. Plus you'll find that when you keep up, the work is not as hard as it used to be. Between getting good at it, and not having the build up, you'll find that your housecleaning is so much easier – you'll be pinching yourself too!
Even my now 23 year old daughter is keeping her house clean. It is that easy.
Plus I'm going to throw in a couple extras –
Bonus #1: The Essential Guide to Organizing Your Home
When you purchase "How to keep a really clean house without losing your mind" right now, you also get instant access to The Essential Guide to Organizing Your Home – written by a professional organizer – its full of tips to help you get your home organized.
Bonus#2: How To Clean Your Carpets Like a Pro
New carpet is expensive. It makes sense to protect your investment. This report was written by a professional carpet cleaner and it will help you keep your carpets looking great longer.
Bonus#3: Perfect Fit Decorating
Once you get the house clean, you might want to take it up a notch.
Learn how to pick the perfect color scheme for your individual taste

Learn how to decorate in a way that makes sense for your lifestyle

Tips for sprucing up what you already have if you can't afford to buy new right now

and much more…
---
When you consider that having your house cleaned costs about $95 a pop, and most people have a cleaning done every 2 weeks adding up to $2,470.00 a year – this is a real steal to get the secrets of getting professional results so easily at just $19.97!
Get your copy now. You'll love the results!
Your order is securely taken by PayPal.
Simply Click on the Button and follow the instructions to download your package
No Waiting – Get started right away!
Important! You will be redirected to the download page after paying. Do not close out until you have followed all of the links to your download -
Only $19.97
(please note – these are e-books – shipping is not an option)
Now, what will you do with all that free time?
Enjoy!
Carole
PS – Look around you right now. How good would it feel if your house was just pretty clean all of the time? And you didn't have to kill yourself to keep it that way? Would feel pretty good, right?
PSS- If you have read this far, you are probably trying to decide if you believe this can work for you. I don't blame you. When I was struggling and trying to keep up, I read all kinds of useless adivce and tips that were just a waste of time. Let me put your mind at ease. Try it for 30 days. If you don't agree that this will make your life easier for years to come, request a full refund.
What others have said…
Wow Carol, I do appreciate you replying to my email, I honestly wasnt expecting anything back, you normally cant rely on it these days can you and when you look at how simple you made it, well thanks, I can cope with that, just having it printed out in front of me like this really does inspire me to just get on with it and stop thinking about it. So at the bbq on Saturday I will have a drink to you!! Many thanks for your help.
Sue
Dear Carole,
I just had to let you know though I have only been using your cleaning scheme for a week, but already my house is twenty times cleaner than it has been in a long time and it looks set to stay that way. I cannot believe that I can now find it possible to keep the house clean while at the same time juggling a part time job, a three year old and a one year old and being pregnant, without having to spend any more time on jobs around the house than I did before. I had never thought of using a squegee to clean the shower screen. It was really disgusting, we'd not been able to see through it in years, yet within a minute the thing was spotless. I'd also never thought of using a feather duster to dust everything or of dusting twice a week, even though it sounds crazy! But now the house is pretty much dust free and will stay that way! It's great to feel that my boys can have their little friends round to play, whereas before I was to ashamed to have anybody round (unless their house was also dirty!).
Thanks, your book has made me happy.
Anna Wilson
Dear Carole,
I would like to thank you so much for the wonderful book, "Secret Confessions of a Clean Freak" This book is the answer to my prayers. With a family of four youngsters, and my husband and I both working, it's often difficult to keep up with the regular must-dos in order to maintain a clean and tidy house. I have always felt that it all boils down to proper time management, and I must say this book certainly helped me get control of my time.
We have always appreciated a clean and tidy home, although sometimes it would take all day just to get the living room into a presentable state. This book clearly outlines just how to prevent things becoming too much, and it has become easy for me to get into the habit of cleaning things up right away.
Sometimes it's difficult to know exactly where or how to start! "Secret Confessions of a Clean Freak" explains clearly how to begin each cleaning task, and shares insider tips , like dealing with dull wood surfaces. This complete guidebook also recommends products that work best for particular cleaning jobs.
"Secret Confessions of a Clean Freak", is a must-have for every household. It has given me the time to enjoy my clean home.
I really would like to thank you so much for sending me this Ebook Carole, you have a heart of gold!
Please feel free to use the comments in this mail on your website.
Kind regards
Fiona
I wanted to tell you, I usually have this whole cleaning ritual that I go through. I have all these cleaners that I use in each room. I tried it the way that you do it and ba-da-bing! It was done. This is so cool, I am so excited! I've been doing it the same way practically since I was a kid. I can't believe I didn't know how to clean a house. I am so proud of myself!
Carla
Round Lake, IL
I believe it's a very handy book and will be happy to
recommend it to anyone with the same time problem
I have . . . which probably includes almost everyone
I know! ; )
Linda Offenheiser
http://www.stress-freecopy.com
Where you always find the Write words
Things that used to take you an hour to do, will take only minutes.
You'll have a clean comfortable home that you, your friends, and your family will enjoy spending time in. You will love coming home. And you'll have more time to spend enjoying your home.
Talk about having your cake and eating it too

PSS – Just one thing- Depending on how bad things have gotten, it may take you a few weeks of a little effort every day to get it under control. That's just common sense, right? But, once you've got the house cleaned up and you're in the groove, it will be a breeze to maintain – so stick with it. It will be worth it.
Need Help? You won't be left alone. I'm always just an email away.
As long as you continue to use these breakthrough techniques, your house will stay clean. I guarantee it.
You can spend more time and money doing it the hard way, or….
Only $19.97
Think No One Really Notices?
I'm so glad you raised me to be clean. Some of these people's houses are disgusting. Especially their bathrooms. I don't want to be rude, but I want to ask them how they think they can get clean in that room.
Emma Gabor – at age 17
I want you to enjoy living in a calm and peaceful home as much as I do.
It doesn't matter what kind of house you live in. Even the most humble home can look great. My daughter often comments about the fact that we have nothing new in the house. I still have the first dresser and couch that I ever bought. I still have some of my grandparents furniture. My daughter's dresser I got at a garage sale for $10. It just underwent its 3rd transformation. You can make your house look great.
You deserve to live nice, don't you?