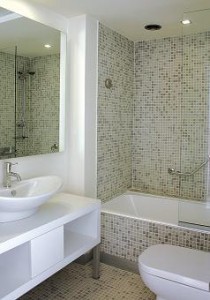 How do you feel when your bathroom is clean?
Do you admire how shiny everything is?
Does it make you feel a peacefulness?
Has it been so long since its been clean that you've forgotten?
I did a one time clean in a house once. We typically don't do one time cleans. They are usually horrendous! And this one was no exception.
I spent a couple of hours just cleaning the husband's bathroom – top to bottom. It was horrible. But I managed to get it clean. I got a phone call as soon as I got home. She was estatic. She said that the bathroom has not been that clean since they moved in.
I told her how she could easily keep it that way. I wonder if she did…
Here's how you can keep your whole house clean without killing yourself >>>